BrailleBox V5
A high speed sheet-fed production embosser
Cut sheet-fed production Braille embosser at a truly affordable price.
Speed 900 A4 pages per hour +45% bs. V4
Automated (open & close) Braille tray
support mobile printing
Emboss hassle-free Braille books (with automatic booklet format)
Poreklo EU (Švedska), Cena
- Brallie Embosser Braille Box: 15000 EUR + PDV (ako se placa)
u Srbiji ista u dinarima.
Print hassle-free braille books
Traditionally to bind braille books, spiral or wire binding methods have been used. To create a completed braille book using this method, one must first separate the printed braille document, then perforate and align each page for the chosen binding method. This process is outdated and takes considerable time and money efforts.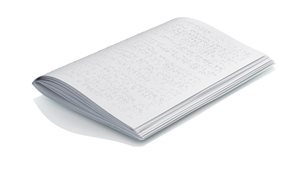 With BrailleBox V5 using A3 (or 11x17 inch) paper and booklet format rather, it is naturally much easier and less time consuming as much of the manual labor is removed. BrailleBox V5 is able to emboss at speeds up to 30% faster than V4. After the pages are printed, the ready documents will pile in page order with a dotted braille line down the middle of the page, you can then fold along this braille line to have a completed braille book. After having folded the A3 size paper, each printed page will then be in A4 size. Just staple, using the Index Braille stapler, along the middle line if desired and just like that you have a braille book!
Embossing braille books in volumes
For larger documents you may choose to emboss the document into volumes, this is recommended because when braille is printed it is much thicker and bulkier than standard ink printed documents. If, for example, you are embossing a document of 110 pages, you may select each volume size to be 40 pages, the book will then be made into 3 separate volumes. Volume 1 will consist of (pages 1-40), volume 2 (pages 41-80) and volume 3 (81-110).

The braille page number and volume number is then applied automatically by the BrailleBox embosser. Typically, the page number is found in the footer; if both the page number and volume number are selected, the format will print as: page #101 v3 (for example). Volume printing is very practical for longer documents, especially if a standard file such as Word or PDF is embossed using idB (Index-direct-Braille) freeware application.
<-- Početak: Brajev štampač za slepe Braille Box V5
Braille on cut sheet paper
This sheet fed production braille embosser continues to lead braille on cut-sheet paper into the future alongside modern day ink printers.

Braille on cut sheet paper offers:
reduced braille book production time (compared to traditional tractor fed methods) - Read more about embossing hassle-free braille books.
the usage of standard office paper (at 120g/m2) - this is more readily available; found in local supply stores & available for a

fraction of the price

compared to special braille paper.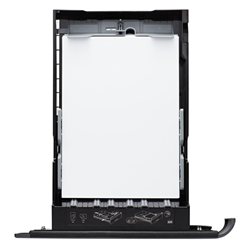 The BrailleBox V5 sheet feeder uses fixed paper sizes. For ideal braille production embossing with BrailleBox V5, use booklet format with A3 or 11x17" paper sizes. B4 and 11.5x11" may also be used for production braille embossing. The paper tray holds approximately 400 sheets of paper.
History behind the finest sheet feeder
The basis for construction of the successful BrailleBox was to find a suitable sheet feeder on the market.

As a matter of fact, the development of a sheet feeder is so complex and expensive that this type of investment may not be justified in the braille embosser niche market alone. After many years of research and searching, Index management had finally found a sheet feeder in which was earlier used by hp in the 90's and after this not used.

Index Braille succeeded to later purchase not only the design of the sheet feeder, but also the production rights and the injection molding tools (in total 21 metric tons!). The BrailleBox sheet-feeder has then been optimized for paper weight of above 120 gram/square meter- the recommended paper weight to support the braille dots on paper.

As the complete design and operations of this sheet feeder is the property of Index Braille, we can continue to produce the BrailleBox for many years to come.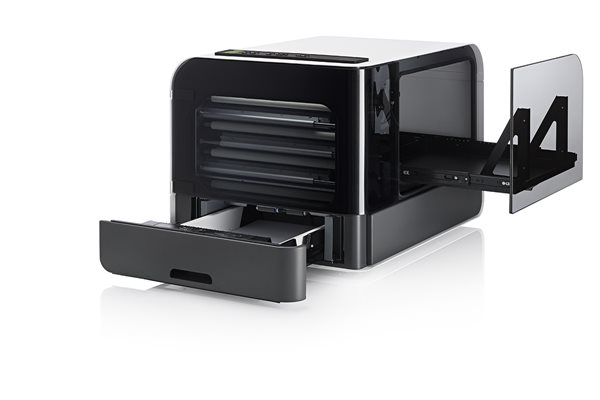 <-- Početak: Brajev štampač za slepe Braille Box V5
Automated Braille Tray
In the previous version of BrailleBox, the braille tray was setup so that users had to manually open the door. This was done by pushing with force in a particular spot on the glass door in order to trigger the door to retract and open. Users found that this method was sometimes difficult, especially for those that are visually impaired.

In BrailleBox V5 the braille tray is opened and closed by simply pressing the DOOR key on the front control panel of the embosser. Both sighted and blind users can easily locate the DOOR key as the control panel is labeled with both text and braille. The mechanics behind the door's new seamless motion was the implementation of an electric linear actuator.
The new additions in detail
An electric linear actuator was the perfect solution to offer simple, safe and clean movement with accurate and smooth motion control, only by the simple press of a button. A linear actuator is said to have a long lifetime and with little or no maintenance at all. We found this to be equally as important as we thrive to build braille embossers that last.

An embedded security function has also been applied to avoid the pinching of any articles in the braille tray door. The door will automatically pick up if any obstacles, commonly fingers, remain in way of the door upon closure. In the event that any obstructions remain, the door will not close and re-open itself.
<-- Početak: Brajev štampač za slepe Braille Box V5
Noise Canceling Design
BrailleBox V5 produces surprisingly low noise volumes when embossing braille. To offer minimum noise levels has been a priority characteristic during the BrailleBox design. The low noise level [60 dB(A)] of BrailleBox is achieved by the use of different sound absorbing components and making the embosser a completely sealed-off unit, which keeps the noise contained inside the braille embosser. Ventilation is through mufflers, reducing the leaking of any noise and yet enabling sufficient air flow.

The design of BrailleBox proves important when placed in environments where low noise levels are appreciated. Competitor braille production embossers generally require that they are placed in its own room due to the noise that braille producing makes; and additionally the enormous size.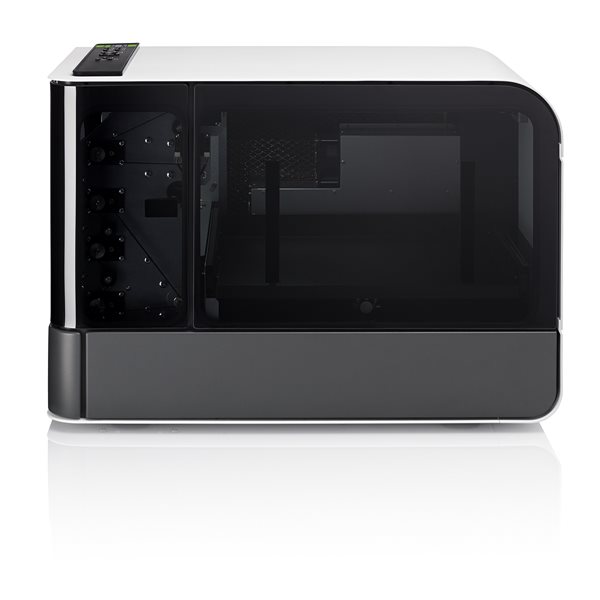 <-- Početak: Brajev štampač za slepe Braille Box V5
Optimized for booklet on large papers
BrailleBox V5 do not support A4 and Letter (11X8,5") size paper, this is a difference from BrailleBox V4. The reason is that this short paper has limited support when picked up by BrailleBox sheet feeder. The consequence of this is that the paper may be pickuped askew, which in to high frequence (more than 1/1000 pickup) result in paper jam or "jumps" on the braille line. With Index focus on stability and high braille quality the printout on A4/letter size on BrailleBox is therefore not good enough. A4 and letter size paper has therefore been removed from the paper table on BrailleBox V5.

Work around to print A4 books using A3 paper
If the customer would like to use A4 paper the recommendation it to instead print on A3 paper in booklet style, the folded braille book is an A4 book size.
In some cases the customer would like to bind the braille book into the form of a regular book and not a booklet-newspaper style (se picture below). This may also be achieved by using A3 paper in booklet format. By setting volume separation to "4 pages", BrailleBox will print the braille text in following way:
1:st A3 paper: Page 1/2-3/4
2:nd A3 paper: Page 5/6-7/8
3:rd A3 paper: Page 9/10-11/12
This continue for the complete book.
Before binding each paper is folded into A4 and binded in the preferred way.
Setup volume separation in: Menu/ Braille layout/ Edit active layout/ "Go to Volume separation in the wizard and change from no volume separation to 4 pages/ complete the wizard and save the new settings.
Internationally renowned design winner
Bringing braille embossers into the 21st century..
Red Dot Design Award- 2011
Braille Box is a beautifully crafted machine and has received international design recognition. In 2011 it was awarded the internationally acclaimed Red Dot Design Award, among such products as the world renowned iPhone 4.
For the first time a product for the blind is recognized in the most prestigious competition for product design; Red Dot is known as the Nobel prize of design. Approximately 1,700 companies from 60 countries totaling 4,433 entries against the Braille Box; and the jury simply appreciated the distinct lines, clear-cut and solid form of the Braille Box giving it the winning title.

People's Choice - Grand Award of Design - 2012
Braille Box user-focused design won the people's choice in The Swedish Grand Award of Design. Braille Box received 2000 votes, nearly 1000 more than the runner up. This production Braille printer has already managed to take more than half of the existing market and is continuously spreading its unique expressive design around the world.

German Design Award - 2012
Braille Box was up against more than 1500 other international design nominees for the German Design Council's international premium prize. The massive success of the German Design Award has shown that industry and design go hand-in-hand. The design council's some 60 years of expertise is used to determine the best design according to recognition and the identification and design trends.
Design S - 2012

This biannual national Swedish design award consists of the best examples of Swedish design. Of the 35 nominees, the jury rewarded the Braille Box. Design S is a quality award; recognition that marks both innovation and superb performance. "If something is worth owning, it should also be worth experiencing," - chairman of the jury, James Lind. The Braille Box adapts admittedly; is modern and with harsh manufacturing requirements, but still holds the primary purpose to give encouragement in design and life quality.
Good Design Award - 2012

Braille Box's latest design award is the Good Design Award for 2012. Good Design is the world's most prestigious, recognized and oldest design award program. Good Design is based out of the United States and covers new consumer products designed and manufactured in Europe, Asia, North and South America.
Entries for design and innovation, sustainability, creativity, branding etc are all submitted annually by various industrial design and graphic design firms working with Global 500 companies. Braille Box was among products from global giants such as 3M, adidas, apple, Mercedes-Benz and many more.
For this year submissions from several thousand of the world's leading manufacturers and industrial and graphic designer firms from around the world representing the most important and critical mass of influential corporations worldwide from over 48 countries.
<-- Početak: Brajev štampač za slepe Braille Box V5