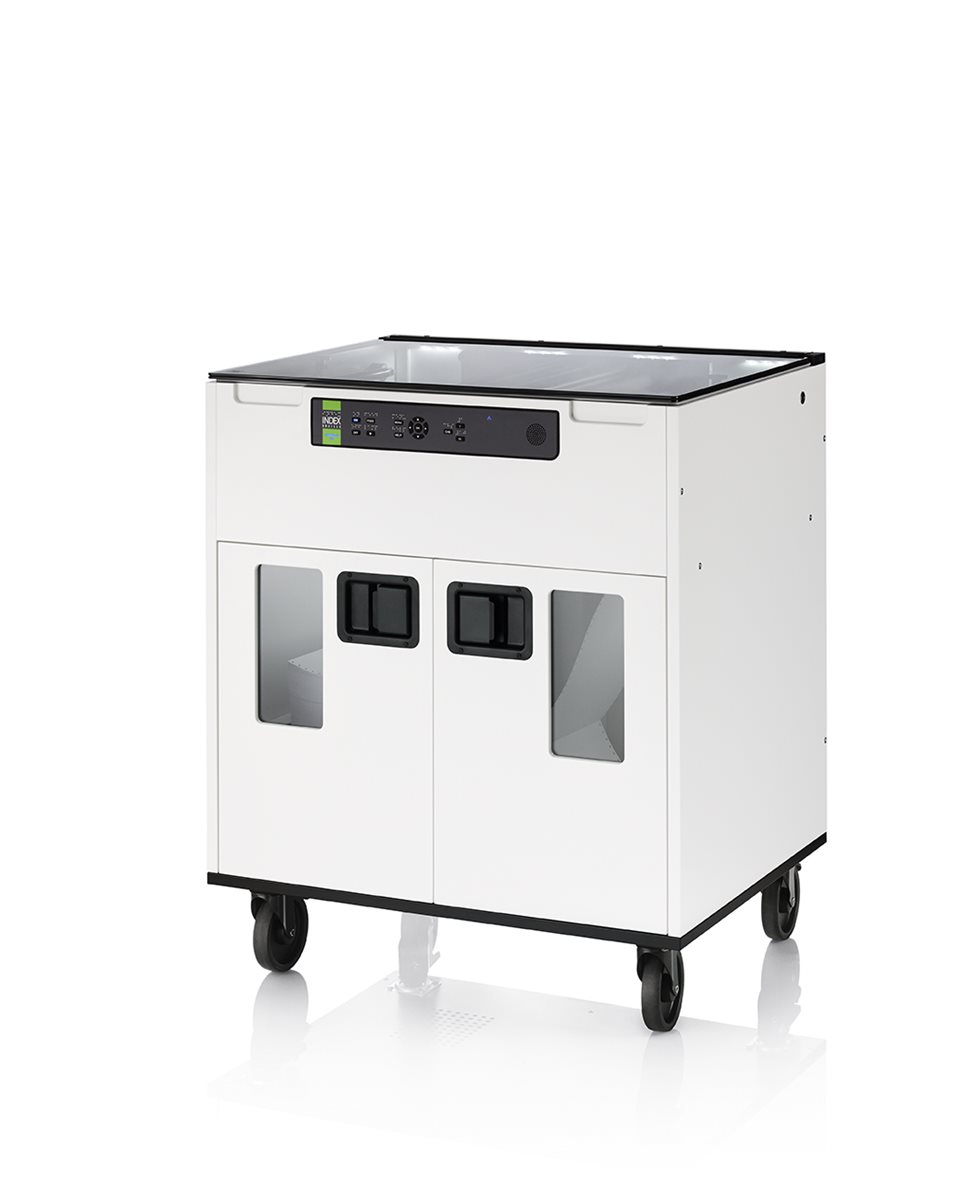 High-speed single-tractor-fed braille printer at a truly affordable price.
Speed up to 1000 pages per hour
Low noise level
Simple and effective construction
Easy on-site maintenance
Smart user interface
Poreklo EU (Švedska), Cena:
- FanFold-D Brajev štampač velike brzine: 15000 EUR + PDV (ako se placa)
u Srbiji u dinarima.
Features
A landmark in production embossers
Traditional high-speed fanfold paper
By tradition continuous fanfold paper is the mostly used paper format in braille printing for high volume production. This is because it enables printing of a full box of paper continuously without being monitored.

In some countries continuous fanfold paper for braille printing is subsidized by the government, making it an even more attractive solution.

Noise-canceling design
The low noise level [65 dB(A)] of Fanfold is achievable because of the use of different sound absorbing components that make the embosser a completely sealed-off unit and keep the noise contained inside the embosser. Ventilation is provided through mufflers, reducing any noise leakage and yet enabling sufficient air flow.

The noise canceling design of FanFold-D proves to be important when placed in environments where low noise level is required.

Support sideways z-folding
Binding of traditional horizontal printed braille
Previously, when a braille document was ready, each braille page had to be separated from the next page and piled in the correct order. This manual process might result in an incorrect binding of braille book.
Binding of sideways z-folding printed braille
Now, with sideways z-folding, the possible mistake during paper handling is eliminated, and the binding process is simplified. This is how it works.
The braille document is printed sideways (vertical).
The pile of printed braille is organized in the book format already in the paper-out tray.
Turn the pile of printed braille up-side down, with first page on the top and binding margin on the left side.
Staple or bind the left side of the braille pile.
Split the right side paper of the paper stack.
Your braille document is ready.

Light to sharpen the design
The LED lights are utilized in the Index V5 embossers to provide an even more clear user interface as well as to sharpen the braille embossers design element.

See the printing process.
Light up paper-in and out bin.
Good lighting during maintenance.
FanFold-D V5 is inspired by a 10-year experience of the earlier 4Waves PRO V3. Customers enjoyed the combination of high speed and continuous braille embossing of 4Waves PRO which is now available in the FanFold-D but with the modern technology and features of the Index V5 platform.

An innovative product concept stemming from the BrailleBox's embossing unit, FanFold-D utilizes the tractor-fed feeding method instead.
| | | |
| --- | --- | --- |
| Technology | Fan Fold-D | 4Waves Pro |
| Speed | 300 CPS | 300 CPS |
| Price | 16.995 USD | 24.995 USD |
| Volume | 473 dm3 | 1348 dm3 |
| Printing principle | 1 module with 3 heads | 4 separate modules with 1 head in each module |
| Paper size | 11 or 12 inch | 11 or 12 inch |
| Ports | Wi-Fi and wired network, Bluetooth, USB, and UDB host | USB, wired network and serial |
| Braille editor | Support Index direct Braille and external braille editor | Require external braille editor |
| Lights | Light-up printing module and paper in/out movement | No light |
| Smart user interface | Modern menu structure, backlit keys and text | V3 user interface |
| Noise level | 63 dB(A) | 63 dB(A) |
The tractor-fed feeding method is the most common and reliable method for braille printing. FanFold-D paper in/out bins hold a full box of 1000 paper.

The shared development cost and component production with Index V5 printers makes it possible for the FanFold-D to keep a lower price with higher quality than its predecessor.

Easy on-site maintenance
Maintaining FanFold-D on site can be done without a trained technician. This major step is possible because:
No mechanical adjustment is required.
No lubrication of moving parts. This eliminates the problem of dust and reduces the cleaning need.
The complete mechanic printing module is accessable after opening the glass lid.
Only a few modules: embossing module with driver electronic board, electronic modul with power supply, CPU board, the user interface and a few sensors.
Sensors and firmware upgrades are shown by light-up text.
Web interface to monitor embosser status, etc.
Remote support from Index factory.
Exploded view drawings combined with web shop make spare parts assessable for everyone.
Braille production embossers often require high service costs to maintain the embossers each year. However, this is not the case with FanFold-D.

The purchase of a FanFold-D includes a two-year warranty on parts and life-long support. Monitor the printing process by using the internal web interface. Wherever you are, you can connect to remote support for assistance from Index or your local distributor. This refrains you from needing to ship the unit for service.

Capable of around-the-clock braille embossing, this robust embosser is sure to handle all braille production needs for countless years to come.
High resolution tactile graphics
Braille books including tactile graphics
FanFold-D makes it possible to include tactile graphics in a braille book. A high resolution tactile graphic page can be included in any position in a braille book as long as the braille editor supports this function. The only limitation is that tactile graphic page is single sided, as printing braille on the back side reduces the tactile image quality.
Old expensive graphic printing
Traditionally it was complicated to add tactile graphic into a braille book. This was because the production braille printers did not support tactile graphic, the horizontal dot distance was typically always the same, and only the distance between lines was possible to reduce.

The tactile graphics quality created in this way was so low that it was not accepted by users. Instead the normal way to add graphic has been to make it separately with swell forming. This method is expensive, manual and complicated.
Downloads
Technical specification
Braille

Embossing speed cps

330 cps

Single-sided

Double-sided

Vertical printing (booklet)

Adjustable line spacing

Braille font

2.5 mm

Tactile resolution

Forming method

Three embossing heads with 13 hammers in each

Additional info

Communication

USB

USB memory stick

Wi-Fi network

Wired network

Bluetooth

Supports mobile devices

Printer driver for Windows

Printer driver for Mac

Printer driver for Linux

Web interface

Free firmware upgrade

Supports idB

Additional info

Remote web monitoring of the embossing process available.

Electrical

Voltage

100-240 V AC

Power max

400 W

Power stand by

5 W

Eco power down

1.0 W

Switched power supply

General

Price

$

16,995.00

Warranty

2 years

cps/1000 USD

19

Produced by

Produced by:


Index Braille


Hantverksvägen 20
954 33 Gammelstad
Sweden
www.indexbraille.com

Measurements

Height

102 cm (40.16 in)

Width

90 cm (35.43 in)

Depth

62 cm (24.41 in)

Net volume

569.16 dm3 (20.1 ft3)

Net weight

100 kg (220 lbs)

Noise level

60 dB(A)

Noise level with acoustic protection

Paper

Tractor-fed

Cut sheet fed

-

Paper roll

-

Sheet feeder size

1000 pages

Paper weight

120-180 g/m2 (80-110 lbs)

Paper width

5-12,5 in

Paper length

8-12 in

Adjustable paper size

Fixed paper size

-