TOPAZ HD Desktop Video Magnifier
Detalji

Datum poslednje izmene nedelja, 06 januar 2019 18:16
Simple to Use, Yet Packed with Features. The TOPAZ HD desktop video magnifier blends practical performance with features and usability. The TOPAZ HD not only offers a high-definition camera with a wide magnification range, but also includes advanced features such as Reading Lines and Masks, Focus Lock, Freeze Frame, and the Find Feature, along with 33 color modes. The TOPAZ HD also includes the unique Enhanced Full Color Mode - perfect for viewing newspaper print, photos, and maps.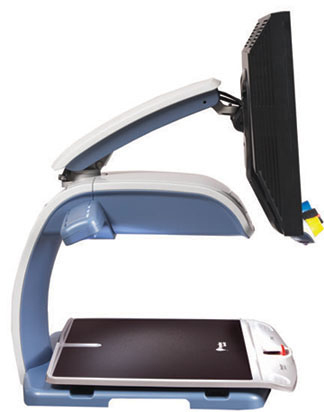 Features
Magnification to 64 times (on a 24-inch monitor)
Choice of widescreen 20-inch, 22-inch, or 24-inch monitor
Auto-focus camera
Accurate colors and even illumination with no glare to minimize fatigue
33 screen color modes including high-contrast full color, true-color, and grayscale to fit your viewing needs
Over 8 inches of working space to write and work comfortably
Unique can and bottle holder holds round objects steady
Extra-wide reading table to smoothly glide large books and objects under the camera
Poreklo USA, cene:
- TOPAZ HD Desktop Video Magnifier 20-inch Widescreen LCD: 2850 USD + PDV (ako se placa)
- TOPAZ HD Desktop Video Magnifier 22-inch Widescreen LCD: 3000 USD + PDV (ako se placa)
- TOPAZ HD Desktop Video Magnifier 24-inch Widescreen LCD: 3100 USD + PDV (ako se placa)
u Srbiji u dinarima.
Other Helpful Features
Adjustable monitor can be raised or lowered, tilted forward or back, or turned 90 degrees to the right or left
Freeze Frame to stop movement for close inspection of small objects or to keep your place
Focus Lock to maintain focus while writing
Find feature to quickly zoom out, find your place, and zoom back in to read
Reading Lines, Shades, and Masks to reduce eye fatigue and focus on what you want to read
The TOPAZ HD is designed to provide the clearest, true-color magnification possible for reading, making out checks, writing letters and working on crafts and hobbies. Our most versatile desktop video magnifier for low vision users features a large illuminated working area, wide field of view, and deep range of focus, as well as easy-to-learn controls.
Simple to use right out of the box. Just flip the switch to turn on the TOPAZ HD, and three dials are all you need for your basic video magnification functions – increase and decrease magnification, step through the enhanced color modes, and adjust brightness.
The Freeze Frame feature fixes an image on the screen and leaves both hands free for the phone, jotting down information, or other uses.
The handy Find feature makes it easy to find your place on the page at high magnification. Quickly center on a section of interest using the Crosshairs feature.
Comes with a 20-inch, 22-inch, or 24-inch LCD flat panel monitor
Clear, vivid image
Ergonomic design with easy-to-use controls
Directed LED lighting for a bright work surface without glare
8.25 inches of workspace under the camera
Extra large reading table for newspapers, oversized books, and handcrafts